These are the keys to growing a profitable property management business.
Knowing your numbers
Existing connections and networking
Marketing consistency
Industry experience and knowledge
Building a team
Working these principles will generate more business and make your current business more profitable.
Knowing Your Numbers
This is first for a reason. Numbers are a property manage company's life blood. You need to know your number for:
Evaluating an owner's property
Lease negotiations
Building your team
Business projections
You name it!
Not knowing your numbers is the easiest way to fail in the property management industry.
Existing Connections and Networking
As the cliche goes, "it's not what you know but who you know." Having connections to owners directly translates into new business. It won't help you keep business for long, so you still need to deliver the goods. If you come to the business knowing property owners, you're in a great position.
If you've been in the property management business for some time, networking is key. I'm agnostic about how. Play to your strengths. Meaning, if you do best on the golf course, darn it, play golf all summer long. If you can work a conference strategically, great, do that. If you're at your best at home, in pajamas, on LinkedIn, God bless you. The exception is when what you're good at doesn't meet your business goals. Let's say your goal is to grow at 20% year over year for the next three years. Based on past experience, you know your marketing mix isn't going to get you there. In that case, you either need new skills or to find a strategic inbound marketing partner.
Marketing Consistency
Besides your marketing mix, sales and marketing consistency is key. Executing your marketing plan over time is what produces results. Isolated individual marketing campaigns or tactics won't. Here's why:
You build relationships. Property management companies are in the people business especially with owners and tenant retention. You can't build relationships with owners and long lasting tenants without effort over time.
Consistent marketing improves you credibility. Imagine a coffee shop tenant who stopped displaying their open for business sign. In a few weeks, it reappeared only disappear some time after that. This schizophrenic coffee shop would confuse customer and prospective customers alike. Let's bring it home. If, for example, you stopped and start blogging a couple of times, you are doing the same thing as the coffee shop. You're confusing your potential clients and hurting your brand.
You can't improve what you aren't doing. Doing sales and marketing, allows you to find the strategies and tactics that are working or not. You'll learn what you can scale and generate ideas for new campaigns.
Do you struggle with marketing consistency or meeting your business goals? If so, it's time to make a change. Our real estate experience combined with the inbound marketing methodology, is a powerful combination. Let's talk about your goals and plans to see if No Bounds is the right strategic marketing partner. Schedule a no obligation consultation with No Bounds now.
Industry Experience and Knowledge
Networking and marketing generates new business, but experience and knowledge keeps it. Plain and simple.
Building a Team
There is no such thing as a one man property managemenet company. Even the smallest property management company relies on contractors. The most sophisticated have thousands of employees across the globe. Big or small, you have a team. Let's breakdown team building by contractors, vendors, and staff.
To vet contractors and vendors, here are a few questions to ask yourself:
Did the contractor quote a price far higher or lower than other quotes? This is a red flag that the contractor doesn't understand the job or is pulling a fast one on you.
Is the contractor desperate? We've all had hard times, but desperation is a stinky cologne. The contractor may agree to terms that they won't be able to keep. Pricing and terms may change dramatically for future jobs. There are lots of little things that can creep up with a desperate contractor.
Is the contractor interested in a long-term relationship? Having go to contractors saves time and sometimes money. Just be sure to get proposals from other contractors for bigger projects. I ask contractors if they would consider working with me in the future several times. I'm always surprised how many of them drop off the face of the planet after one job.
Can you verify the quality and timeliness of workmanship? I don't care about years of experience, but instead, the results. It's important to be able to verify their testimonials and past work.
Is the contractor responsive? A good contractor returns phone calls and emails fast.
Then, there is hiring new team members. Don't forget you need to keep Uncle Sam happy. Besides complying with employment regulations, you'll need to, go figure, hire talent. Different organizations have their own unique way of hiring employees. I suggest, however, starting with something that has worked for others as an initial framework. Here's a conventional hiring process: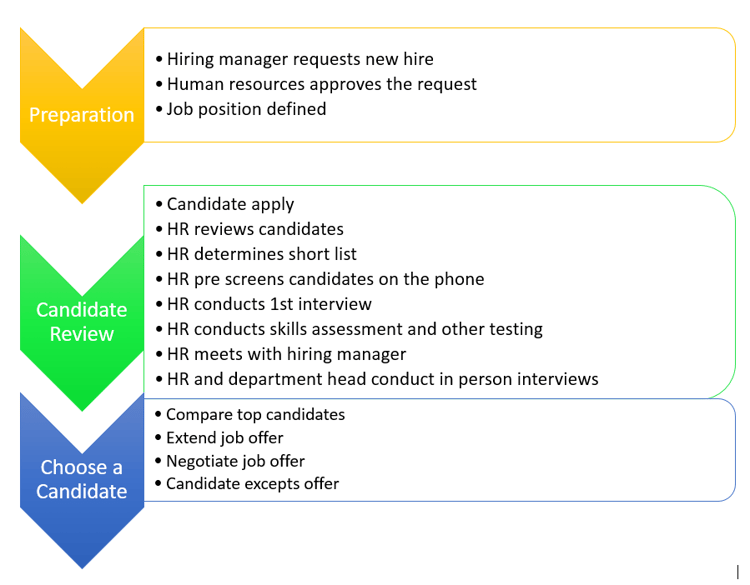 Tip #1. I prefer to find people for freelance work to see their work product, and then bring them on staff. Especially hiring managers need to be able to work independently. You'll find plenty of self-motivated workers by offering one off jobs to freelancers.
Tip #2. Try targeting recruiting on LinkedIn instead. Use LinkedIn search to find people that already meet your hiring criteria, and you'll avoid many steps in the hiring process.
The last tip works best when you are putting your best foot forward on LinkedIn. If you don't have a compelling LinkedIn company page, now is the time to get one. Get the free visual guide to creating a LinkedIn company page for property management companies now.