Despite the technology to produce personalized, one to one video making the process dead simple, video email prospecting is still a novelty. The wonderful thing about novelty is that it increases your prospecting email performance merely because it's new. Video also improves your results because you're able to connect in a more meaningful way than you can over text-only email.
So how do you make it work for you? Let's get started.
How to Use Video in Your Email Prospecting Sequence
Here's an example sequence that I'm using to prospect cold insurance leads. I'm getting a great open rate of 34%, 6% reply rate, and a 1% meeting rate thus far. In this video, I show you exactly how the outreach is structured including where I include video, and calls.
To pull out a couple of concepts that are working for me right now.
Second "First Touch" Video
Emails are easy to ignore, especially the very first one. It might take a few before the prospect realizes that you are professionally persistent. That's a great time to re-introduce yourself by sending the initial video.
Stepping back a second, you do this in real-life. How many times that you been asked for your name a second time? Or "what is it that you do again?" We all have a lot going on, so a quick refresher on who you are and why you're reaching out is often appropriate. If you haven't applied this to your email outreach, give it a shot.
Here's an example first touch video that I use twice in the cold insurance prospect sequence that I walked through earlier.
Varying Outreach Formats
I look at video as another arrow in my quiver.
Video
Email
Phone
Text / Whatsapp / etc.
Social media messenger
Direct mail
Smoke signals
Homing pigeon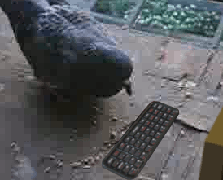 I'll use any and all of them to get a prospect's response, but it's oftentimes difficult to know the forms of communication that a particular prospect will respond to the fastest and with any luck in the affirmative.
Video may or may not be the arrow that hits the bullseye for a particular prospect, but it increases the likelihood that I get a response if I'm using several different channels while I'm in pursuit.
Automated Sales Sequences
There's as misconception that video is expensive and time consuming. I've found it to be the opposite. Sure, I had to pony up for Loom along with a decent camera and mic, but its increased my efficiently and effectiveness more than making up for the costs.
I pair high touch video with automated prospecting tools like HubSpot's sequences for a marriage made in Heaven. There's no reason why you need to reinvent the wheel for each prospect. Use thoughtful automation to streamline your video prospecting.
Start creating video email scripts ASAP with this free download of templates.