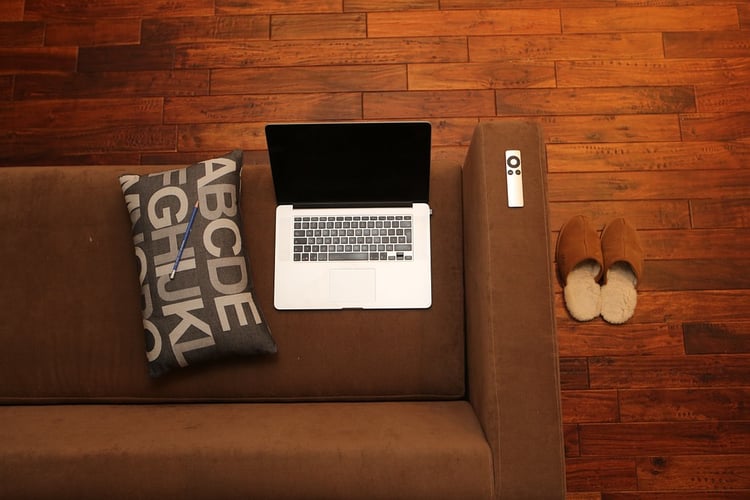 Creating a content strategy can be a long and tedious process, especially since there are many things to be considered along the way. We give you a short 12-step content strategy template to follow when making your own content strategy to save time and focus on the most important issues.
1. Define Goals
Before starting a journey, you need to decide on your destination. What do you want to accomplish with this content strategy:
Increase brand awareness
Gain an online presence
Get more customers
Or something else?
Define your goals in numbers: the number of daily visitors you want to get on the company's website, the number of Twitter followers, the number of monthly sales, etc. Defining the goals will help you track the progress and plan further steps.
2. Create Buyer Personas
Content marketing is the foundation of the inbound methodology because all content is designed for your ideal customers, addressing their needs and solving their problems. If you want powerful content that generates leads and sales, you need to know who you're trying to reach. Buyer personas are individual representations of your customers, their habits, typical behavior, and so on. To learn more about the process of creating buyer personas, check out the What are Buyer Personas and Why do we Need Them article.
3. Match Your Content with Buyer Personas
Once you've created buyer personas, you'll brainstorm topics that are most likely to attract them. How are your services connected to your buyer personas' needs? What problems and challenges are your buyer personas facing and how can your company help? Which aspects of your business are they most curious about? Even topics that aren't as related to your products or services but are of interest to your personas should be considered, because you know that even if they aren't ready to buy that they would be ideal customers for your business. Have your customer service and sales teams provide you with a list of customers' frequently asked questions and plan content topics that answer those questions.
4. Align the Content Medium and Type with Buyer Personas
Your buyer personas' behavior will provide you with the insight on the best channels to promote your content on: blog posts, certain social media channels, email, etc. It's best to start out with only a couple of channels and gradually grow your online presence.
Likewise, your buyer personas will indicate whether video, audio, text, or a variety of content formats makes the most sense for you, whether your content should be brief or in depth, be casual or form in tone, and so on.
5. Check out the competition
This doesn't mean copying what the competition is doing but rather assessing their content and learning from them. What kind of content is the most popular with their audience? What keywords do they rank high for and what keywords you can outrank them for? Learn from their strong points and use their weaknesses to your advantage.
6. Evaluate Existing Content - the ROCK method
If you're not starting from scratch, you should start by evaluating the existing content using the ROCK method. There are four things you can do with content:
Repurpose
Recommended for your most popular content. Break longer content into tidbits that can be used as standalone social media posts, infographics, daily quotes, and other content. Experiment with other media types as well: turn written word into videos or images.
Optimize
Use SEO best practices to improve your content's search engine ranking and check your analytics to understand and optimize for user behavior. Some posts might be too long or unreadable: break them into smaller paragraphs and add images in between.
Create new
Look for good ideas that were executed poorly and give them another chance, or cover topics that you lack content for altogether. Determine what your buyer personas are looking for and provide it.
Kill
Some content is no longer relevant, and if there's nothing useful you can take out of it, it's time to pull the plug.
7. Map Out Your Content
Keep a spreadsheet or use a tool like the Hubspot with keywords, your search engine ranking, content ideas, approved topics, and other information. It's easier to have everything in one place, and will speed up the content calendar process.
8. Find Your Team
Not necessarily in this order, you'll need a content marketing agency an in house writer to put your strategy into practice. There is a lot to consider whenever you are making a new hire or retaining an agency, check out this blog post to help you decide which is best for you.
9. Plan Content Frequency and Rhythm
Decide on the amount of content you will produce each week: the number of social media posts, new blog posts, and so on. The workload will dictate the number of people you will need working on your content. If you can afford it, assign a dedicated person for each type of content that you produce such as blogs, email, and social media, so that they become subject matter experts.
10. Make a Content Calendar
When you have content frequency figured out, make a calendar for publishing each piece of content. It's ideal to publish new content at regularly scheduled times, so your visitors know when to expect new content.
Here's an example month of our content calendar that we keep in Hubspot.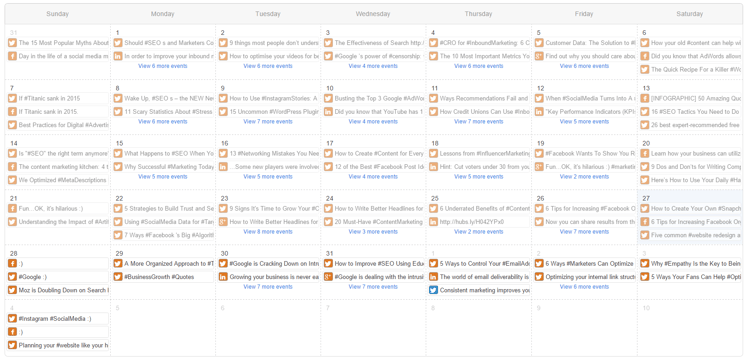 11. Promote Content
There are a number of ways that you can promote your content including:
Social media distribution
Blogger outreach
And so on
You should do as many of them as you can with excellence. Too many businesses fall into the content hamsterwheel of death churning out content to get a little bump in traffic when an effective content promotion strategy is the better long-term solution.
12. Analyze and Plan for the Future
Once you completed a content marketing campaign, it's time to evaluate its success. If all goals were met, you can start planning the next campaign following the same principles. If the campaign was unsuccessful, discover what went wrong and learn from your mistakes. Either way, no content strategy is perfect, and an analysis of your content marketing campaigns will help you avoid bad practices and improve future results.
Now It's Time to Put the Plan in Action
The Introduction to Inbound Marketing guide will jumpstart your success with implementing an inbound strategy. It explains how to create buyer personas, how to determine what online marketing channels are best for your business online, and how then the nuts and bolts of making it happen. It's free to download here.