Not to start off with jargon, but personalized video often gets confused with one-to-one video. Personalized video use technology that maps values to personalization elements, which are then replicated for each new viewer. It's pretty slick! One-to-one videos are created from scratch for each viewer. Here's an example of a one-to-one sales email.
The good news is that we're going to cover how to make both one-to-one videos and personalized videos for email!
How to Make One-to-One Videos
There are a number of video platforms, but the one that we use and recommend is Vidyard. Alas, if you use another platform, this won't be the right tutorial for you though there are going to be some similar steps.
If you don't already have the Vidyard browser extension, you're going to want it. Here's how to get it.
If this is what you're here go, grab Vidyard's chrome extension to record and send a completely personal one-to-one video to each prospect, colleagues, or communicate better with existing customers.
While you can get started with one-to-one video right away, personalized video is going to take some time, and money for that matter, to produce. The more people that you send personalized video to the less expensive it will be per contact because there are economies of scale. If you have a small list to send to, keep in mind that it's not going to be cheap!
How to Make a Personalized Video
Just like there are different platforms for one-to-one video, there are different options for personalized video just the same. Vidyard is one of those platforms and trusted by companies large and small. With personalized video you can insert personalized elements like:
Names
Titles
Company names
Logos or other images
You name it!
If you have it in your HubSpot CRM or similar tool, you can switch it out for each contact with personalized video.
We recommend working with a professional to produce personalized video. There's a lot of technical stuff happening, but here's some food for thought for each phase of the production process. DIYers, you can't say we didn't warn you!
For some sense of the possibilities, check out Vidyard's personalized video inspiration hub. We particularly <3 the University of Waterloo and Advocamp videos but they are all worth watching!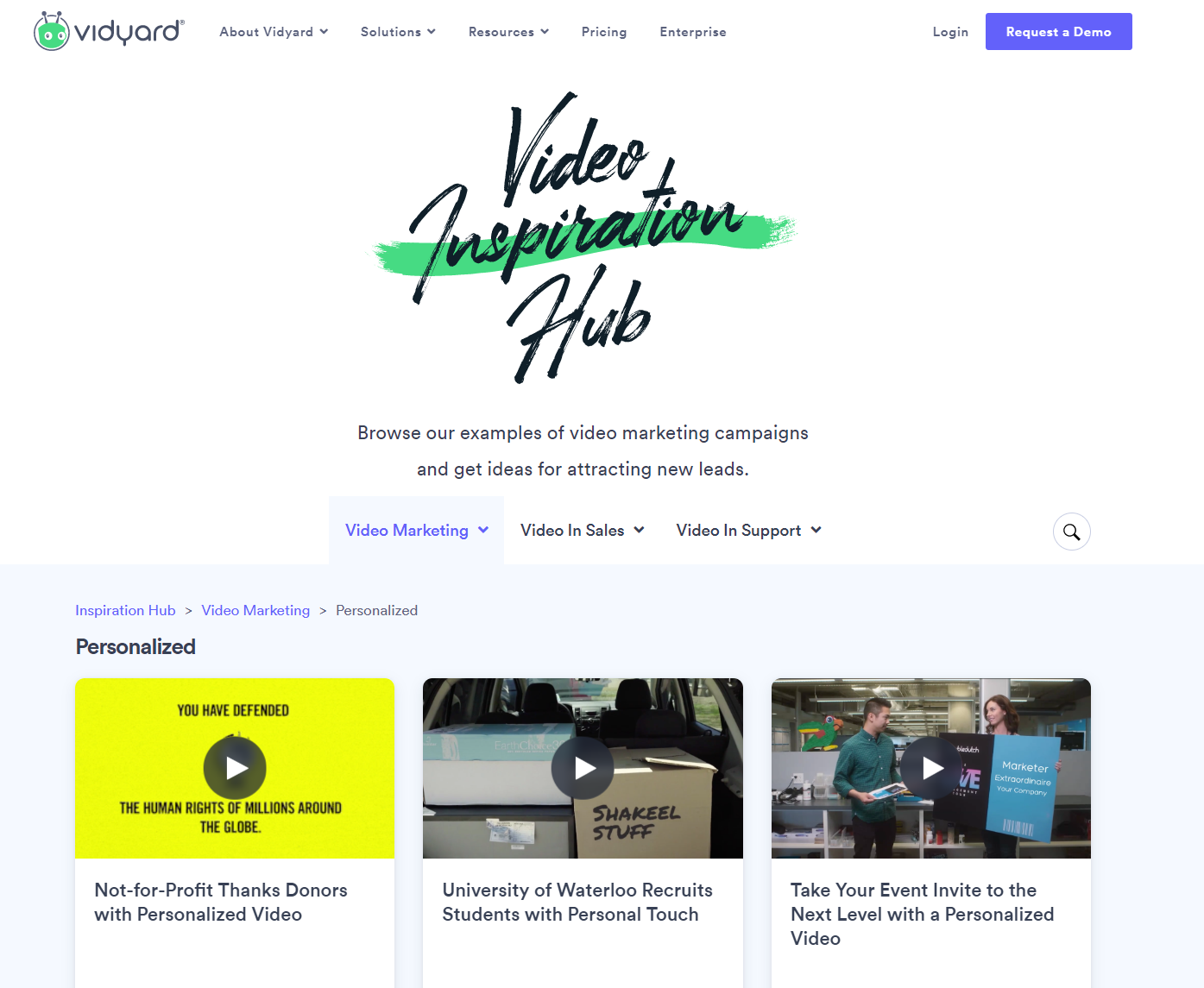 Pre-Production
Each video platform has their own engine for creating personalized video. A good first place to start is to understand the guidelines of the engine. Here's Vidyard's.
Now that you know what's possible, write a script and storyboard for your video. The nuts and bolts of scripts and storyboards are beyond the scope of this post, but here are some pointers about what you will.
The structure of a storyboard follows this pattern.
Opener
Problem statement
Solutions
Call to action
Keep this pattern in mind when you are creating your video's content. The idea of a script is straightforward, but hey, HubSpot put together some useful resources that will help you write a compelling one.
Video Production
This is where all of that preparation pays off. It's time to shoot some footage. There's some hard work in this phase but don't forget to have some fun! During the video production phase:
Setup audio/visual equipment as well as sound equipment
Conduct interview
Record voice overs
Capture b-roll
Make sure the key people from the first phase are on location to ensure that the team is following the script and storyboard.
You can spend thousands of dollars on a videographer during the video production phase. World according to No Bounds Digital, it's more often than not worth the expense. Really solid video will save you all kinds headache in the post-production phase of your personalized video.
Video Post-Production
Vidyard has this to say about post-production:
I cannot stress this enough—have your video editing team review the personalization guidelines again before editing the project in the post-production software Adobe After Effects. Once you're ready, submit the video to your video platform's team for process and rendering.
With the guidelines fresh in mind, it's time to roll up and your sleeves and knock out post-production:
Store the content
Edits pictures
Edit sound
Secure music
Mix sound
Correct color
Add titles, credits, and graphics
Gather distribution materials
Make a thumbnail
Personalized Video Tips
Perhaps the most important tip is to stay organized and plan carefully. Here are some other best practices that will help make your personalized video a success.
Personalize at least three points of the video (four to six is ideal)
Find a good reason to use personalization early in the video to get the viewer's attention
Otherwise, look for times that the viewer might lose interest and add personalization there
Ideal objects to personalize are light in color, stay static, and are on flat surfaces
Ensure that the object is on the video long enough for the viewer to the notice the personalization
Get a clear, static shot of each personalization object
Creating an engaging thumbnail is a key to getting your prospective viewer to click
Bookmark this resources as you go through your personalized video project and download this personalized video checklist to help keep you organized.