HubSpot has so many innovative features that save enterprises time and money. But what happens when your business outgrows a single domain to spinoff a product or acquires a new domain from M&A activity?
Instead of slapping together a new subdomain or creating an entirely new HubSpot account, your enterprise can simply add a new brand domain to your existing Hubspot account.
Easy, right? Well, kinda...
If you're new to the world of brand domains, dig into our guide to see if the brand domain feature is a fit for you, common brand domain challenges, and best practices to make the most of your HubSpot brand domain.
What is a HubSpot brand domain?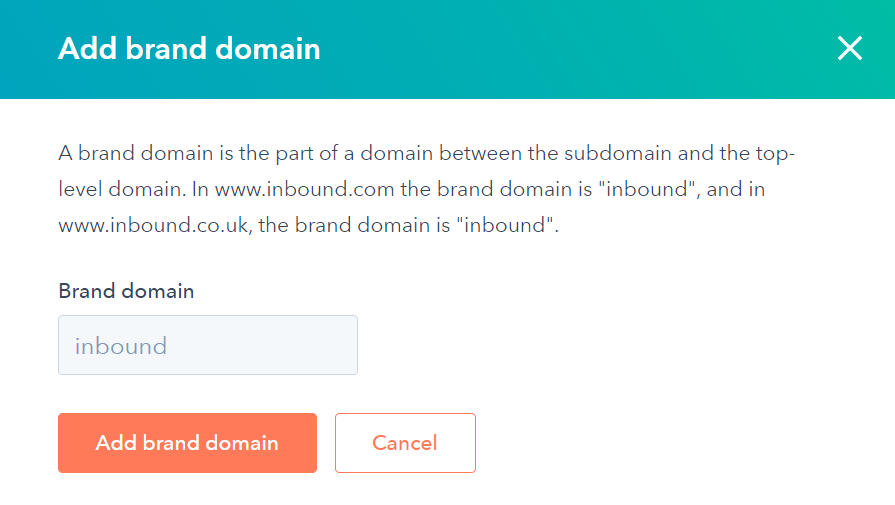 A brand domain is also called your "root domain." Enterprises often need a second domain to fit the needs of their growing business. Brand domains are a great addition if you need to target a different audience or use a different voice on web properties owned by your enterprise.
For example, HubSpot separated its Inbound conference website (inbound.com) from its brand domain (hubspot.com) to fulfill the unique needs of visitors on both websites.
Depending on your HubSpot subscription, you'll either have one or two brand domains included in your package and can purchase more as an add-on. Your different brand domains will allow you to:
Host content. Share content tailored to each audience on separate websites managed from one HubSpot account.
Pull separate reports on web traffic. Instead of trying to separate your different subdomains, just run separate reports for each brand domain and call it a day.
Create publishing permissions: Because a brand domain treats your second website as a separate entity on the same HubSpot account, you can give team members access to specific domains.
Will Hubspot brand domains work for me?
You're a good candidate for a HubSpot brand domain if you're already using HubSpot's enterprise growth suite or just marketing enterprise; that's a good start, because you'll get enterprise functionality for the cost of pro product functionality. You'll get the most value out of a brand domain in HubSpot if:
You're targeting very different audiences: If, like HubSpot, you have a website for your products and a website for an industry event you host, a separate domain gives a better user experience with content tailored to user expectations. That's a much better experience than creating one landing page for your event on your brand website.
You need robust reporting: Get a simpler, cleaner report on your web traffic analytics with separate brand domains across domains.
You have separate companies or products that operate independently or provide a unique brand experience for customers.
However, you might not need a brand domain if you created a subdomain for your needs (blog.hubspot.com for hubspot.com, for example), if you're redirecting to a vanity URL, or if you just don't want multiple teams in your HubSpot portal. To be really honest, there are also some things that can get a little tricky such as connecting the same CRM multiple times for brands, segmenting certain types of reports like social media distribution, and more so it's important to go into brand domains with your eyes wide open.
3 challenges of using HubSpot brand domains

Of course, brand domains aren't without their challenges, especially if this is your first time using them. In our work with enterprise brands, we see 3 common challenges when large organizations add brand domains.
1. Separating contact records
Because brand domains split your HubSpot account between two or more web properties, it's a challenge separating your contacts and records. How can you manage your database when you have multiple brand domains?
It comes down to separating contacts or companies by brand and assigning those contacts to the correct team as well as maintaining lists that help differentiate your database. From there, HubSpot can automate the workflow to give both your customers and employees a cleaner experience.
2. Sharing data between multiple teams
It can be difficult to collaborate or share data between different teams with brand domains. What do you do if the same teams manage both brand domains?
Ideally, you need a syncing option that prevents manual data entry. A custom API integration can fix this so you can operate both domains from one database. Get in touch with IntegrateIQ (and tell them that No Bounds Digital sent you) to see if a custom integration would work for your domain.
Depending upon your needs, being intentional about user permissions, using good data hygiene practices, and so on will do the trick.
3. Email management
Brand domains consolidate your larger business into one HubSport portal. However, they aren't able to show different domain subscription types on a single page just yet, which can make it difficult to offer efficient email subscription management.
Remember, like any piece of technology, HubSpot brand domains have their limitations. Understand what brand domains can and can't offer your brand to see if they truly make sense for your enterprise.
3 HubSpot brand domain best practices
Interested in adding a brand domain to your HubSpot account? Great! Here are 3 best practices to make the most of your brand domains.
1. Create views for website analytics
You're putting in the effort to track your website performance, so use HubSpot's custom views to make the most of your analytics. Hubspot allows you to customize analytics by your domains, which includes 25 custom analytics views for each of your domains.
Just click "Add Another View" to your reports to measure your subdomain, brand domain, or top-level domain performance. Since HubSpot partitions the data, you're able to get a granular view of each website's performance without muddying the waters.
2. Use property tags
With multiple domains on your HubSpot account, how can you ensure your contacts or companies are associated with the right team?
It all comes down to tagging and associations. HubSpot matches contacts to your internal teams with these tags, although it's still possible for a contact to be owned by multiple teams, if you need that. You would need to create multiple owner properties to make that possible, though.
3. Add appropriate user permissions
The big upside of brand domains is that they limit which team members have access to your properties. Assign certain features or contacts to specific users or even a team as a whole. This ensures your team is only working in the areas they should be, keeping everything firing smoothly.
The bottom line
Don't create a second HubSpot account to manage your other domains under the right conditions.
Want to learn more about HubSpot brand domains? Get in touch with No Bounds Digital. As a HubSpot Platinum Solutions Partner, we have the expertise to help your enterprise make the most of HubSpot. Schedule your no-strings-attached brainstorming session now.