If you're looking to add more features and functionality to your HubSpot account, Extensions are a great way to do it. With Extensions, you can create custom contact forms, add social media buttons to your website, and much more. There are a ton of different Extensions available, so you're sure to find ones that fit your needs.
What are HubSpot Extensions and where to find them?
HubSpot Extensions are add-ons that allow you to do more with your HubSpot account.
There are a variety of different extensions available, each with its own unique benefits.
Some popular extensions include the Social Inbox Extension, which allows you to manage all your social media accounts in one place, and the Email Extension, which helps you track email opens and clicks. They are a great way to add more features and functionality to your HubSpot account.
So if you're looking to add more to HubSpot, be sure to check out the App Marketplace and find the perfect Extensions for you.
Featured HubSpot Extensions
There are many great HubSpot Extensions that you can use to increase your productivity and streamline your workflows. Some of our favorite Featured Extensions include:
1. HubSpot Contacts - This Extension allows you to quickly create new contacts, add new tasks, and save articles for later. It's a great way to keep everything organized and in one place.
2. HubSpot CRM - The HubSpot CRM Extension helps you manage your sales pipeline right from Chrome. It makes it easy to track leads, contacts, and deals.
3. HubSpot Sales - The HubSpot Sales Extension helps you close more sales by giving you instant access to your sales data and tools. It includes features like email templates, lead scoring, and contact management.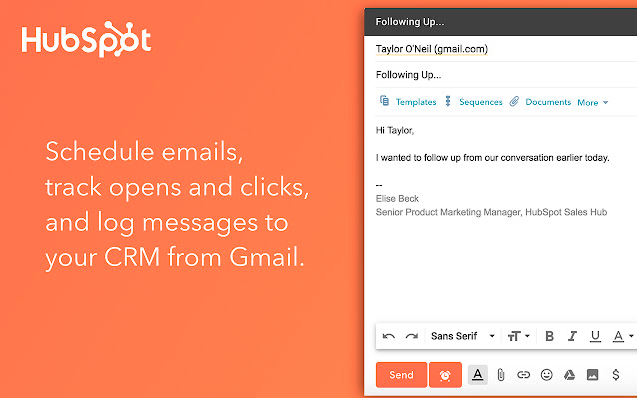 4. Google Hangouts - The Google Hangouts Extension lets you easily start or join a Google Hangout from your Chrome browser. This is a great way to connect with coworkers or clients online.
How to install HubSpot Extensions
To install HubSpot Extensions, follow the steps below:
First, open Chrome and go to the HubSpot Extensions page. Click the "Add to Chrome" button for the extension you want to install.
When the extension is added, a notification will appear at the top of your Chrome window. To open the extension, click on the notification or go to Chrome's menu bar and select "More Tools > Extensions."
Inside the Extensions panel, you'll see a list of all the extensions you've installed, as well as buttons to enable or disable them. To use an extension, just click its button in this panel.
The benefits of using HubSpot Extensions
Here are some of the main pros of using Hubspot Extensions:
1. Increased productivity - HubSpot Extensions can help you be more productive by allowing you to quickly and easily do things like create new contacts, add new tasks, and save articles for later.
2. Easier collaboration - With Extensions, you can easily share content with your team and collaborate on projects.
3. More streamlined workflows - By using Extensions, you can create a more streamlined workflow that works better for you and your team.