When designing a digital strategy, you need to be sure of two things – that you are generating leads and sales and that you can prove this to your stakeholders. HubSpot is incredibly popular because it delivers on both these requirements.
Part of the secret of HubSpot's success lies in the often-undervalued thoroughness of its reporting features. Compared to other tools like Google Analytics, Salesforce, or Marketo, all of which offer fine features, HubSpot is both highly intuitive and more likely to deliver the KPIs you need.
Crucially, it does this by linking site visitors back to your CRM database, so you have a handle on exactly how your regular and new customers are using your portal. You can then customize your reporting dashboards to demonstrate your sales and marketing performance.
Here's a video showing how to create custom reports on HubSpot:
Let's look at some key features of HubSpot Reporting.
Traffic reports
The first thing you want to know is how many visitors you have and where are they coming from. Of course, you could retrieve this information from Google Analytics, but why turn to another app when HubSpot can tell you all you need to know? It's doubly important to rely on HubSpot when you have contacts in your database that you can tie to these reports and access enriched contacts records directly.
HubSpot's intuitive dashboard tools break down those site visitors by source and medium:
Source – the page that sent the visitor your way (e.g. social media site or search engine)
Medium – the type of push the visitor received to hit your site. Was it organic (they searched for you) or was it a paid referral from an intermediary?
This helps focus your energy on whichever point of origin works best, to help increase footfall.
Here's a video we made to show you how to identify which sources are working, and which aren't.
A view from the bridge
It's not just about where your prospects come from, it's what they are looking at, for how long and with what end in mind. Page views are increasingly analyzable in terms of view duration, bounce rate, CTA consideration, etc.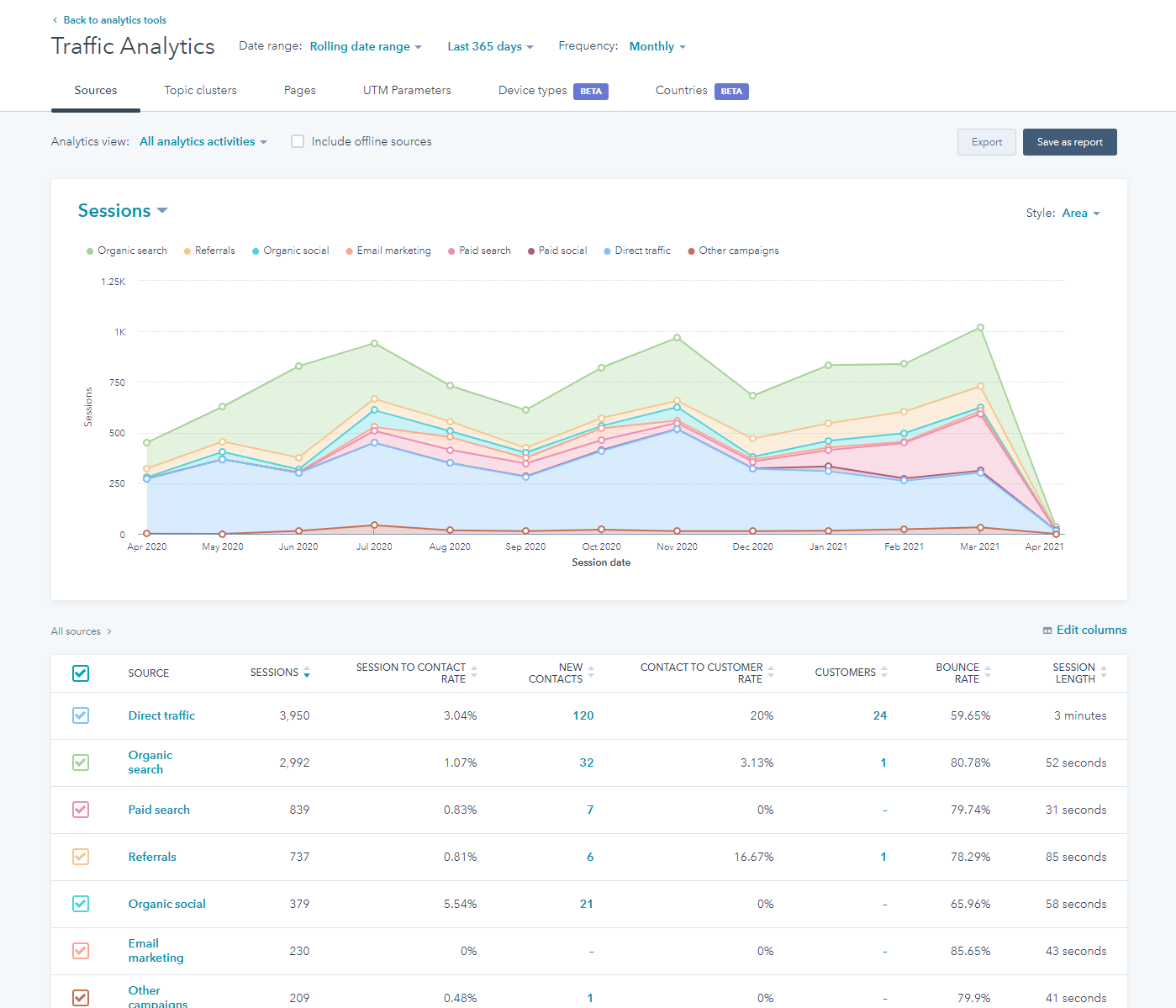 A typical HubSpot Site Traffic Dashboard view
By analyzing visitor behavior, HubSpot Reports present a host of page metrics including:
Average time on page
Bounce rate – visitors who leave after one page view
Exit Rate
CTA views and clicks – find out how convincing your CTAs are
And much more…
Dashboards can be endlessly customized to show only the information you find most helpful.
Converted yet?
Of course, it's not just about page views, but also about engagement, conversion rates, and sales turning good fit leads into real, live, breathing customers. HubSpot turns your data into those all-important key performance indicators.
As you probably know,
CONVERSION RATE as a percentage = LEADS GENERATED/WEBSITE TRAFFIC X 100
So, 1000 leads from 100,000 unique visitors would equal a conversion rate of 1%.
Funnel reports are a great way to see this in action. Tactical performance reports and pie charts are another way to see percentages in HubSpot's reporting tools.
You make your reports more granular by segmenting leads and traffic source to present a conversion rate breakdown. For instance, you might display new leads from LinkedIn Ads, for instance.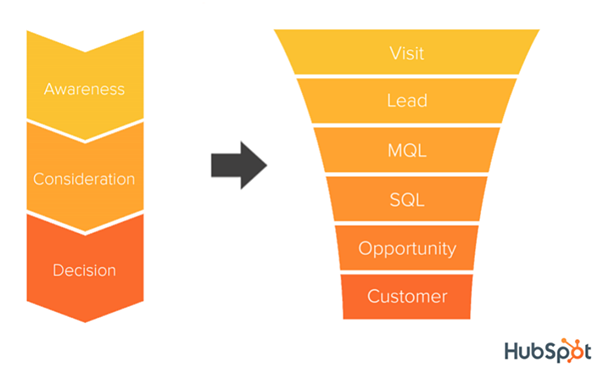 How HubSpot sees its conversion funnel (MQL = Marketing Qualified Lead and SQL = Sales Qualified Lead)
Know your audience
One of the best advantages to using HubSpot's reporting tool is how well it integrates with its CRM features. HubSpot will automatically identify visitors that you have added to the CRM system and will then record their marketing and sales activities. What this means is that:
You will understand when you have a hot lead
You can implement accurate and automatic lead scoring
You can target specific lists for marketing campaigns
You can report on the behavior of your existing customers
You get the idea!
Conclusion
HubSpot is the #1 CRM for scaling companies. With the power of sales, marketing and service in one, you can leverage data from across a contact's buyer's journey to drive sales and optimize your marketing efficiency.
Why not talk to No Bounds Digital to implement your reporting strategy without the headache in HubSpot?! Schedule a quick call to get started.