Summary
You can't go to Inbound without hearing what's new from HubSpot's founders. Both Nada and I were at Brian and Dharmesh's keynote session where we listened about "A New Species of Distributor" from Brian and a mantra "How they sell is why they Win" that refers to a new way of selling even in the B2B sector. We also listened about a future of work from Dharmesh and remote jobs as a standard rather than the exception to the rule.

Here are Ben's impressions and Nada's notes to give you more details from the session.
Transcript
Brian and Dharmesh's spotlight always has a lot of powerful updates. No new hubs this year, but what we did get was the "Main Sail." The main focus of what's happening inside the HubSpot platform is on security and stability.
However, HubSpot is cranking updates for all kinds of things. They're bringing some features down into HubSpot free tools and the starter tools that just weren't there before. And then on the other hand we're seeing better and more options for attribution model at the enterprise level, so a lot of new features coming out for the existing hubs.
I'm excited to see where some of these products go.
I would love to see some improvements made to the products and quotes sections for enterprise clients. But a lot of new features and a lot of robust things are happening to the platform in general. We're seeing more and more a shift from All in One to being a platform for third parties to connect with HubSpot and that being the hub of your sales and marketing and customer service efforts. So that was an overarching theme of a lot of what Brian and Dharmesh had to say over the course of the week, as well.
Notes
Dharmesh's speech was brilliant and we believe he missed his calling as a standup comedian. He spoke about facing fears as company and how to overcome obstacles.
He spoke about differences - being different is OK even preferred as it gives a new perspective, company culture, and our personal favorite - the Future of Work.
According to Dharmesh, the future of work is in flexibility - location, time, and method should be adjusted to both employees and customers.
He presented a "Pajama Principle":

"Success is proportional to the degree to which you let people stay in their pajamas."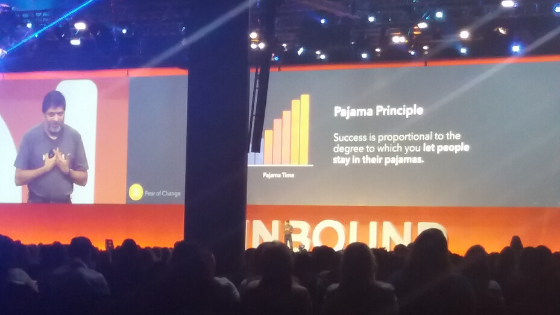 As a fully remote team we couldn't agree more with Dharmesh.
He also said:
"Respect remote employees. They help you, your team and your company grow."
With a prediction that the number of remote workers will just grow over time.
He also acknowledged that companies are afraid as this would mean a change, but what we should really fear is a stagnation.
Conclusion
B2B companies have to step up their game or better yet learn to play differently. Products and services would need to be personalized and processes around them frictionless so that the flywheel can spin. Marketing strategies will look more like B2C than traditional B2B and marketers will focus on generating users rather than generating leads. With the modern technologies people should be allowed to work where, when, and how it suits them as long as they are bringing results to the table. Remote workers are certainly doing it. Are you game?