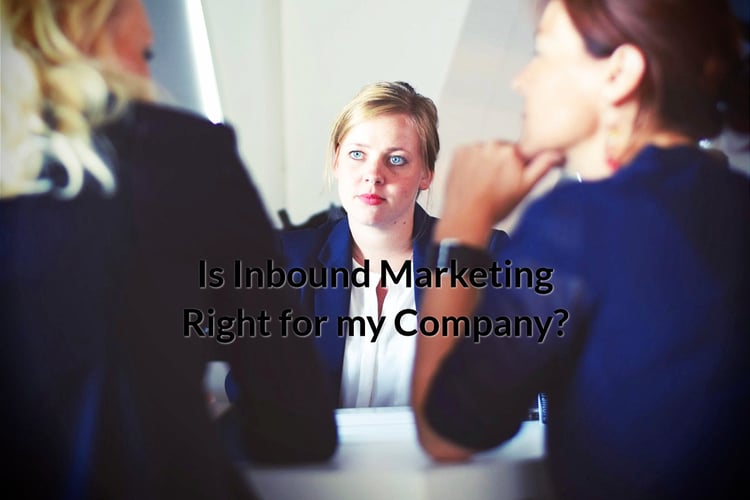 You've heard about this inbound marketing thing, but not sure whether you should take the plunge. Maybe you're a traditional company in a stable industry, but you've got aggressive growth goals and need a new channel to meet them. Maybe you've been doing SEO and other online marketing, so you're looking into inbound as a big picture strategy that can take you to the next level. Maybe inbound isn't a fit for you at all. That's the question we answer below.
Is My Company Big Enough to Benefit from Inbound?
Yes and no.
Companies of all shapes and sizes are using inbound effectively. Smaller companies should focus one or channels to start like LinkedIn or paid advertising. You determine those channels after developing a buyer persona. Once you understand your target market, you will know where they spend their time online, that's where you want to be.
Five to 25 million dollar companies are the best fit to apply the inbound marketing methodology as an overarching strategy for their business. Mid-sized companies like this have the resources to implement the 4 stage of inbound marketing (link to post) across all online assets including their website, blog, social media channels, and so on.
Are My Customers Right for Inbound Marketing
Great question! While there are exceptions to every rule, inbound marketing works best for companies whose customers have a high lifetime value and take time to consider their purchase decision.
An example of a business that's a poor fit for inbound marketing, on the whole, would be smartphone cases. There are inbound tactics that would generate sales in that business such as social media and SEO and content will generate sales especially reviews, but implementing an full-scale inbound approach should be lower on the priority list than online advertising, getting customers and thought leaders to review the product, and optimizing product pages on e-commerce stores like Amazon. The ROI from inbound is going to be a lot more challenging than those customer acquisition tactics.
A great example of an institution where inbound marketing works is a private k-12 school. The lifetime value of the student is tens or hundreds of thousands of dollars over the course of the student's educational career.
The parents of your students don't make a snap decision about sending their child to your school either with legacy students and some other exceptions duly noted. Instead, they have questions, and your school can the source of answers to those questions.
The parents of your students have thought generally about their children's education, considered whether public or private school was a better option for them, weighed their private school options by geography and whether the school was religiously affiliated or not to name a couple of factors, and also had questions about your institution specifically. What if you were the source of the answers to those questions? Would that be valuable to your school? Would you have a higher conversion rate from an interested family to enrolling the student?
Of course, this is just one example. Hubspot has a repository of case studies which looks at a dozens of businesses across numerous industries that are a good fit for inbound marketing.
I've Got a Long-Term, Sustainable Source of Leads and Customers
Congratulations, you may not be a good fit for inbound, or rather, need inbound marketing to meet your business goals. The challenge, however, is that too many companies are experiencing the opposite. Sources of leads of customers that you have relied on for years are disappearing and you need a new channel to sustain or grow your business.
The biggest challenge for companies like this is overcoming the inertia of doing what you have always done and getting fewer results from it. Unfortunately, many people want to see change, but aren't ready to change themselves. If you are hesitant about incorporating inbound marketing methods and if your employees aren't willing to cooperate, inbound will be a waste of time and money. Inbound marketing methodology requires good communication between the marketing agency (or your in-house marketing team) and company's employees from various teams and with various levels of expertise.
I Need Results Fast
Inbound marketing is a long-term investment that takes time. Inbound marketing isn't magic, it's a proven method that has cumulative benefits. The timeframe that it takes to see results varies but is usually between four and eight months. Many companies give up halfway through, but if you stick with it, you'll see the numbers change to your favor.
That said, one of the important initial steps of developing an inbound marketing strategy is conducting an online marketing audit. An audit will often identify quick wins and low hanging fruit that can move the needle more quickly.
Do I Have the Resources to Make Inbound Work?
The inbound marketing approach is different from what you have been doing. That requires an honest and firm commitment to doing something than the way that you have always done things. Though you can reduce the amount of time that you spend pursuing inbound leads substantially by working with an agency, you and your team need to be committed to inbound marketing to make it work. This means things like the following depending upon whether you are implementing inbound in house or with an agency:
Approving or writing content
Analyzing data about your customers and writing buy personas
Engaging with prospects on social media
Creating eBook and crafting other offers
Designing landing pages and writing copy
Researching topics and keywords
The list continues, but this gives you a taste of some of the marketing activities that go along with inbound.

The result of this hard work is more leads. According to a HubSpot survey from 2012, inbound marketing costs 61% less per lead than outbound. Inbound marketing requires a significant investment in time and money, but in the long run, you'll find solid ROI from a lower cost per lead and from highly qualified leads.

A smart way to determine if inbound is a good choice for you is to claim your no obligation online marketing audit. We'll review your online presence together and determine what is working, what isn't, and what's the best approach to meet your business goals.