Who couldn't improve how they manage their time at work?! These strategies and tips can help. Here's the challenge: the easy part of is reading this post. The hard part is putting it into action. If you practice these principles, you'll be a more effective property manager and company.
Know What's Important and Urgent
Sometimes understanding what's important and what's not requires experience, but many times, it's commonsense. When I'm planning what tasks I need to do, I think about it in terms of what's important and what's urgent.

If you're a visual person, you want to be sure that tasks in the green box get done first and right. Then, look to the yellow and orange boxes. If you're completing tasks in the box red, ask yourself why in the world you are... They are neither important or urgent.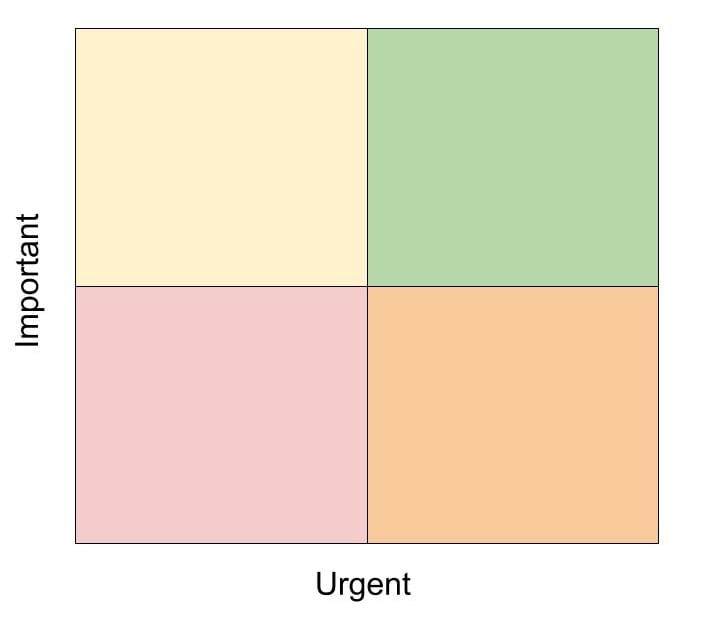 Some people manage their tasks in a matrix like this, but I live and die by Todoist. I am a premium user, but you'll get plenty of features without spending a dime. Using Todoist is a huge time saver for me. You can add tasks using natural language and you can set priority levels for your tasks too. Here's how: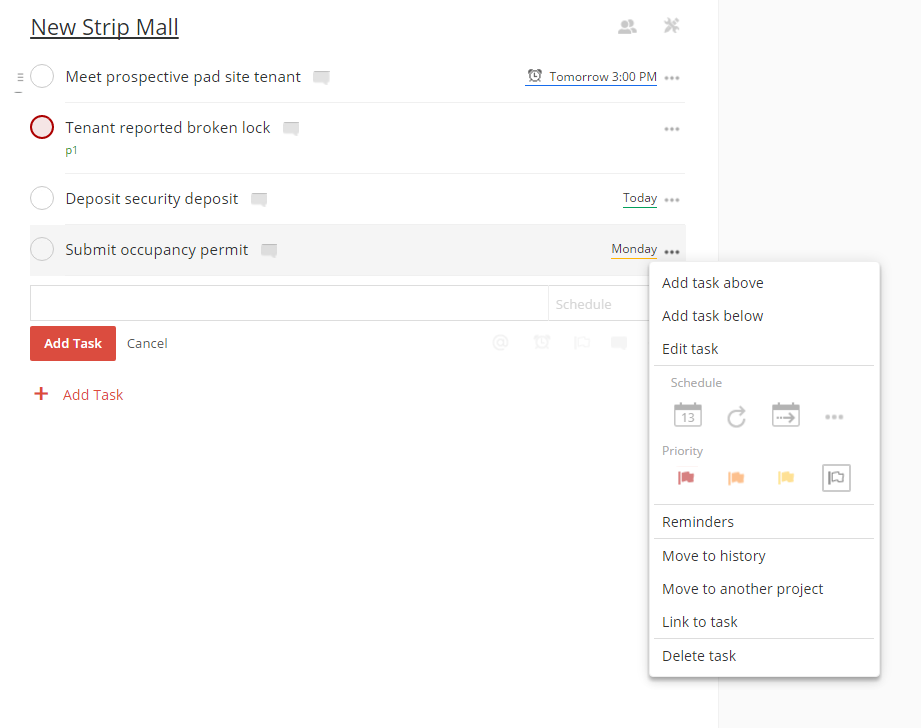 Adding a task is simple. Type or say on your mobile something like, "Meet prospective pad site tenant tomorrow at 3pm." Boom! Task added. On desktop, rank the task by clicking the three dots to the right of the task and then choosing a priority level flag. I use this method, but on the go, I tend to use labels at least temporarily. Type the @ symbol and use shorthand that makes sense to you as I did on the second task in the above screenshot. You can then filter by those levels or labels to parse out the most important tasks.
Under Commit
Property management is in no small part a business of emergencies. Tenant issues, for example, can wreck your schedule without padding in your calendar. My suggestion: plan less. Make sure there is room in your schedule to get the most important work done and then some.
Create Realistic Deadlines
Whenever a task involves someone else, I always double my estimated completion time. If something is out of your hands, do your mental well-being a favor and account for extra time.
Develop Habits
A lot of time management gurus talk about blocking out time for specific work. For some tasks, like rent collection, this works well, but for most others not so much.

We've already talked about the interruptions that you need to address. If a tenant calls during time you reserved for social media marketing, you'll be unable to complete the task! Reserving blocks of time doesn't work there either.

You're better off thinking about things as habits. Ask yourself when questions like these:
When I get into the office, what's are the first three things that I do?
When am I the busiest / least busy on any given day?
When am I the most tired / energized?
When am I driving to properties?
You might be thinking of a few more questions right now. That's great! Answer them too.

Now that you know what you do and when you do it, think about whether those times and behaviors make sense.

If you make coffee, check email, and read industry news for thing, you may be getting lost in the shuffle. Re-engineer your current habit to be more effective. Try making coffee, scan email for five minutes, and read industry news later, during a slow part of your day.
Eliminate Distractions
Property managers face too many distractions to count! Here's two: tenants and social media.

When you face a distraction, the switching costs impact your performance. Research shows that:
It takes more time to complete tasks when you switch back and forth between tasks. Ideally, you work on one task until completion and then move onto the next.
You make more errors when you switch tasks.
The more difficult the tasks, the more powerful these negative effects are.
It's not always possible, but one option is to go with the flow. If a tenant calls, go into tenant communication mode. Address the tenant who called. Then, follow up on any other outstanding tenant concerns while you are at it. This way, you will incur fewer switching costs.

If you market your properties on social media, it's easy to get distracted. Here are some tips to staying focused:
Use www.stayfocusd.com. This service, an online timer, and other tools can help you defeat social media distractions.
Use different accounts for business and pleasure when possible.
Use a third party tool that has far fewer distractions like Hubspot, Hootsuite, and so on.


Outsource, Delegate, or at Least Don't Reinvent the Wheel
Okay, I fibbed. I don't just look at whether a task is important and urgent. I also look at whether I can do the task with excellence. Are you great at traditional marketing but struggle marketing your properties online? Or, you are great at least negotiations but not so much at screening tenants?

If you can get around your weaknesses by outsourcing or delegating them, great!

If you can't get around the role, find tools and resources that will make your life easier. Speaking of which, here's a free LinkedIn marketing resource. If you know you could improve your social media presence, this visual guide can help. You'll walk away with an optimized LinkedIn company page for property management companies. Your new page will generate more exposure from property owners and prospective tenants alike.
Get Your Visual Guide to
Creating the Perfect LinkedIn Company Page for Property Management Companies