When No Bounds Digital first became a HubSpot agency I remember a HubSpotter saying, "we eat our own dog food." I hadn't heard that phrase before, but it's a quote that I haven't forgotten! HubSpot uses its own product and its own methodology, inbound, to grow its business.
Another one of those zingers that left an impression on me is "be your own best case study."
In the spirit of eating your own dog food and being your own best case study, we took to the HubSpot directory to see how the top 150 HubSpot agencies fair using HubSpot's Website Grader tool. Website Grader got a refresh in May of 2020, so this is a perfect time to take it for a spin and congratulate these agencies on a job well done! 🎉
Note: Since these grades can and do change, we are listing the agencies with the top grades in alphabetical order and omitting the grade itself. You can click on the link to see their current score. No Bounds Digital collected this data at the end of May and into June. We spot checked the scores on the 17th of July, 2020.
How Should You Pick a HubSpot Agency?
At the risk of overdoing it with another saying, here's something else to keep in mind: "the cobbler's son has no shoes" is real and merely because an agency that you're considering isn't on this list doesn't mean that they wouldn't be a good fit for you.
Here's one good reason why. Their buyer persona.
For the longest time, I know that No Bounds Digital didn't score well. We weren't eating our own dog food, but we were building a business because we understood who our buyer persona was and how to reach them offline.
While our website grade left a lot to be desired, we were getting great results for clients just the same. Small and local agencies are especially likely not to have the greatest digital presence themselves but might be very good at what they do.
So how should you identify the right HubSpot agency for you?
Competence. There are several ways that you can identify whether a HubSpot agency has the skills that you're looking for. Check to see if the agency has the right HubSpot certifications. Are you looking for a new HubSpot CMS website, enterprise sales implementation, or marketing automation? There's a HubSpot certification for that! Check for any online reviews, testimonials, or case studies that reference what you're looking to accomplish. The agency's website content and one on one conversations with their team will also help you understand their competencies.
Cultural fit. Especially if you're forming a long-term partnership, finding an agency and a person at that agency that you like is half the battle. You're going to be spending some quality time with your HubSpot agency, so it might as well be pleasant. That's different for everyone. I remember hearing a story about an abrasive account executive and his coworkers secretly wondered how he had a full book of business. When he took a job at another company and the agency divvied out his clients, it turned out that they were all as gruff as he was!
Evaluate their work. Check out the agency's website, social media channels, and so on. If the agency has case studies, read them. If the case studies mention the customer, check out their online presence though be sure to confirm with the agency what they've done so you aren't making judgments on work that they didn't do. The same goes with reviews and testimonials. Follow the trail to see the work that they've done for others and if it's aligned with your needs.
Service. There's a number of components to great service. Here are some of them to help you understand what's important to you. Does the agency respond quickly? Are they will to change the scope of your agreement? Do they pick up the phone when you call or respond to text messages? Will you get a response after hours? Does the agency regularly solicit your feedback? Agencies have different approaches to these questions and different businesses have different needs, so it's useful to get on the same page.
How We Got to 100
When HubSpot re-launched its Website Grader tool No Bounds Digital sat at a paltry 60 points.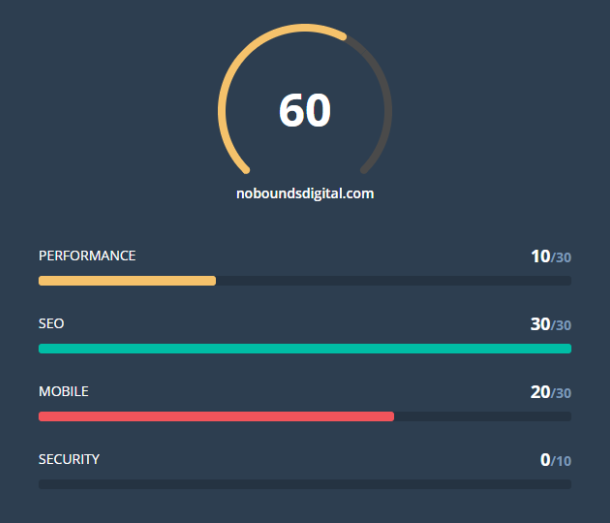 While were implementing best practices for search engine optimization there was room for improvement when it came to overall website performance, mobile optimization, and security best practices.
It's hard to improve if you don't know where you stand. The website grader gives you that honest assessment and it wasn't pretty for No Bounds Digital.
127 requests
4.2 mb page size
16.4 second load time
Too many redirects
No tap targets for mobile
Not all resources loaded over https
Outdated Javascript libraries
Here's how we fixed these issues holding us back from 100.
Consolidated third party scripts for ad networks, analytics tools, you name it into Google Tag Manager
Reviewed HubSpot's redirects tool and used the Redirect Path Chrome extension to diagnose redirect chains and fixed them
Developed tap targets
Updated Javascript libraries
Identified resources that weren't loading over https and replaced it using Chrome dev tools
Significantly reduced the length of the looping hero video and better optimized it for web
Other technical stuff to replace or consolidate requests that we marketers need not worry ourselves about :)
And this short video shows how it all turned out.
What's Next?
If your website performance isn't what it needs to be convert more and better leads we can help. We've been there. We feel your pain. Schedule a call with us and we'll walk through your HubSpot Website Grade together and determine next steps to get your website in ship shape.